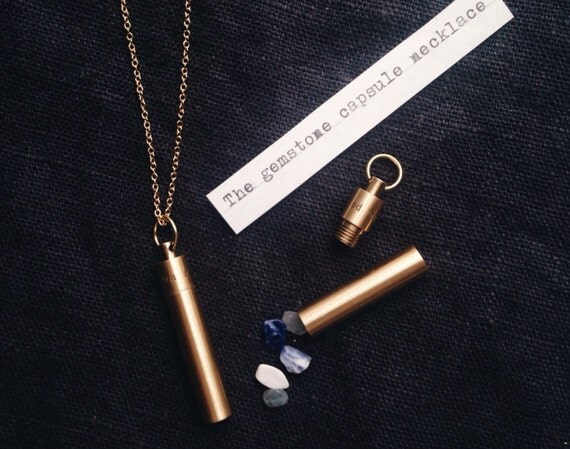 | photo no. 2 shows an example of just a small amount of our assortment of minerals (grouped in custom colour groups), from which your necklace fragments are selected |
I've always liked the idea of being able to personalise the things we wear (after all, what we don is usually a reflection of our personalities!) . Surely in this modern age we can come up with a few ideas : )
We've created this in brass so that it could weather beautifully through time. We kept the profile simple because sometimes the understated is more elegant than the bling-y-ness of today (sometimes ; )
———
I love to come up with custom stone mixes, using complimentary textures and palettes. So ask away! : )
Some lovely custom palettes include: pastels, blues, greens, purples, earthtones, birthstone colours, etc
——-

Your Capsule Contents and Ingredients:
|| One brass time capsule, engraved with our motto 'a terra ad astra' Latin
for 'from the Earth to the Stars' (capsule height: 4.4cm / 1.75in),
|| Above capsule filled with assorted gemstones. I can usually fit 4-6
stones inside the capsule, and each assortment is unique.
|| A choice of either our link necklace chain (18 inches) or our ball
chain ( 24 inches long, 1.5mm diameter )
|| One artist-signed specimen card, stamped with the capsule's date of
creation and assembly
|| *Optional custom gemstone colours
|| *Optional typewritten note within capsule box (125 maximum characters)
|| One recycled-cotton, drawstring carrying bag
|| All exquisitely packaged using recycled paper boxes, cotton, and misc.
|| *Your parcel will include your typewriter-typed mailing address on the top of your parcel
(please see 4th and 5th photo)
*all of our custom notes & shipping addresses are hand-typed on our vintage typewriter (*see 5th photo for an example of note aesthetics)
Because of the inherent nature of brass to weather over time, your capsule colour will deepen over the years, giving further character to its already beautiful aesthetics. Your specimens will vary in size, shape, and colour, as each specimen has its own qualities.
-----
5% of every time capsule purchase goes towards funding Kickstarter projects that support space and science education and exploration.